International News
TOP STORY

GlassPrint 2017 attracts record attendance

Sponsored by Glass Global, the largest-ever GlassPrint conference and exhibition was successfully staged in November and presented the latest decoration trends and developments to the international audience that gathered in Düsseldorf,...
07.12.2017

Panasonic Develops Unique Vacuum Insulated Glass Based on Its Plasma Display Panel Technology

The new vacuum insulated glass achieves the industry´s top-class(*1) insulation performance for glass of approx. 6 mm total...
07.12.2017

First Solar Presents First Functional Series 6 Module

Production-scale throughput marks a major milestone in factory retooling / Expansion of Vietnam production facility also...
07.12.2017

Sinacon HC – hybrid converter for innovative grids

Sinacon HC is a modular, flexible hybrid converter for innovative grids which links different power sources and batteries to the public grid or can be used to create...
05.12.2017

Tipps & Tricks: Glasrecycling zur Adventszeit

Wohin mit weihnachtlichen Duftkerzen, leeren Glasflaschen &...
04.12.2017

16-metre-high atrium in Stuttgart with EControl glass

Open, communicative, creative: at the new European headquarters of the Lapp Group (U.I. Lapp GmbH) in Stuttgart-Vaihingen the open-space concept is lived right into the...
04.12.2017

Excellent business opportunities for Elettromeccanica Bovone

Starring robotic work centers by Elettromeccanica Bovone. The trend confirmed at the expo: customers wish to quickly negotiate a...
28.11.2017

SGS Awards JinkoSolar with the First C2C Certificate in China

JinkoSolar Holding Co., Ltd. announced that it has been awarded the Cradle-to-Cradle ("C2C") certificate by SGS, the world's leading testing, inspection, verification, and certification...
27.11.2017

Glasindustrie weiter auf Erfolgskurs

Alle Branchen melden positiven...
01.11.2017

GLASSPRINT 2017 - glassglobal Group invites

Time is running out to register for GlassPrint 2017, sponsored by Glass Global and taking place on 29-30 November in Düsseldorf,...
05.09.2017

The necessary road for Refractory Materials Industry in China

Last year, China´s energy-saving environmental protection industry output value to reach 4.5 trillion yuan, and proposed to strengthen energy-saving technological transformation, the implementation of pollution control key projects to promote...
Search News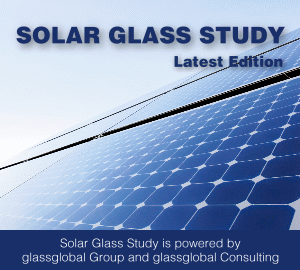 INFO
News by language
NEWSLETTER
Services
Advertisement